MTV Networks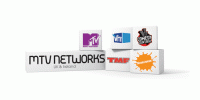 MTV Networks UK represents 20 TV channels that offer the best in music, comedy and kids programming in the UK.
Reaching 21 million homes across SKY, cable and Freeview, for almost ten years the brands of MTV Networks UK have been market leaders across their three primary genre groups: music, with nine channels under the MTV, VH1 and TMF brands; comedy with two channels from Comedy Central, and kids with five channels from Nickelodeon UK.
The company is a pioneer in the world of digital media. The channels have an unequalled relationship with all their audiences and we continue to evolve with them by producing award-winning content accessible across all platforms, all of the time.
MTV Networks UK & Ireland is part of MTV Networks International, the largest television network in the world with brands seen globally in 560 million households, in 162 countries and 33 languages via 150 locally programmed and operated TV channels. There are more than 350 digital media properties.
MTV Networks is a unit of Viacom
The MTV Networks UK & Ireland Digital Media team use Drupal on a number of our consumer facing sites including:
www.mtv.co.uk [Originally launched on Drupal 4.7 in 2006, and re-built by our own team on Drupal 5 and re-launched in early 2009]
www.comedycentral.co.uk [Previously known as Paramount Comedy, launched Dec 2008, and re-launched as Comedy Central in 2009]
Drupal is also used across a number of backend systems that manage our Interactive TV, Mobile and SMS services, along with video transcoding workflow and systems monitoring.
Job offers :
Sorry no job offers at the moment.