erdfisch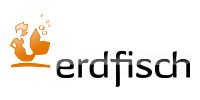 erdfisch is a web agency located in Heidelberg, Germany that is specialised in the development of web projects based on Drupal. Founded in 2005 and adopting Drupal as CMS of choice shortly after, erdfisch now uses Drupal for the realisation of web solutions exclusively. Looking back on numerous projects that were successfully completed with Drupal, we are still convinced it is one of the best CMS available on the market. As it is also open source, an idea and concept we believe in, we are glad to pass our knowledge and experience back to the community and are also proud that we can be a sponsor of this year's DrupalCon.
Some of our projects and clients:
- www.medfriend.de, www.spreadyo.com (Drupal powered community solutions)
- other Drupal based projects were impletented for ZEIT Online and the ZDF Theaterkanal
Job offers :
Sorry no job offers at the moment.