adrian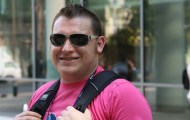 Adrian is a senior developer at Development Seed. He spends almost all of his time with us solving the problem of how to manage many, many Drupal sites in a simple way.
And he's the man for managing massive Drupal deployments. Adrian is the father of Aegir, a set of contributed modules that solves this very problem by providing a simple Drupal based hosting frontend for networks of sites.
For more than six years now (really, he's user 1337 on Drupal.org), Adrian has been working with Drupal and is one of the few people who can say that they were at the very first DrupalCon (Antwerp, 2005). During this time, he's contributed major code enhancements to the project, including the PHPTemplate template engine, Drupal's install system and install profile/distribution system, and Drupal Forms API.
Adrian lives in Cape Town, South Africa. The Development Seed team is already planning to visit for the World Cup.
Up to three words that describe you:
aegir