CivicActions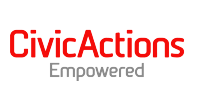 CivicActions' team of over 35 people in 8 time zones provides strategic consulting, technology planning, visual and information design, quality assurance and web solutions for content management, on-line/off-line communities, constituent relationship management, e-advocacy, e-canvass and on-line fundraising tools. Our services empower distributed networks to protect the environment, advance peace, improve public health, promote education, champion social and economic justice and increase human potential.
CivicActions has deployed more than 50 Drupal powered websites since March of 2005, ranging from basic promotional sites to complex e-commerce, multi-media and political websites.
The CivicActions Team consist of experts practicing in strategic consulting, information architecture, user experience design and testing, systems engineering, visual design, organizing, quality assurance, and project management. CivicActions team members live where they want, have a flexible work schedule, and work for clients they are passionate about. This flexibility tends to attract "Renaissance" men and women: people who -- in addition to their passion for technology -- are also literacy activists, Appalachian songwriters, personal transformation coaches, organic farmers, and programmers with degrees in art and political science.
CivicActioners actively engage their communities and bring their interdisciplinary approaches into their work with technology. "Thinking outside the box" -- a phrase corporations use to encourage innovation -- is not something we try to do. We live it.
As a policy we honor freedom, all of our source code and materials are licensed under either GPL, AGPL or Creative Commons. By leveraging free and open source software we deliver the maximum value to our clients and team members alike.
Job offers :
Sorry no job offers at the moment.