Evolving Web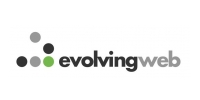 Evolving Web was founded in 2007 by Suzanne Kennedy and Alex Dergachev to meet the growing for dynamic websites. We first started specializing in Drupal when a local political party, the Quebec Section of the New Democratic Party, came to us and asked us to build their site in Drupal. Rather than say "we don't know how" or "we can't," we jumped right in and have never since looked back.
We believe that Drupal is the best solution for many web projects thanks to its powerful developer community and endless possibilities. At Evolving Web we encourage every team member to become active in the Drupal community both locally and abroad. It doesn't take much encouragement though, as we have an office full of driven, passionate designers and developers.
With our can-do attitude we've been able to build powerful sites for a wide range of clients, keeping both ourselves and our clients educated on the ever-growing set of tools available. We build intelligent websites that drive user interaction to achieve the results that our clients need.
Job offers :
Sorry no job offers at the moment.