Rue89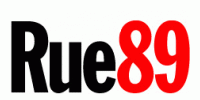 Rue89 is a pure player news website combining the creativity of reporters, experts, bloggers and Internet users.
Rue89 is an independent French news website. The idea is to blend a classical professionnal aproach with the involvement of experts and Internet users. The core team of journalits keeps the "final cut" on every aspect of the site.
The name is Rue89, 89 as a reference to the revolution (in our case, the news and digital revolution rather than the French revolution). Rue (street) shows the openess and the taste for debate.
The site was founded in May 2007 by four journalists who used to work for the French newspaper Libération. It reached an audience of 1 million unique visitors (Nielsen) in July 2008.
Job offers :
Sorry no job offers at the moment.