Proteon provides full service managed hosting for Drupal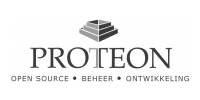 Proteon provides full service managed hosting for Drupal. We specialize in managing websites that need to live long and prosper, that need continuous care and that require further development.
We offer high quality 'Drupal tuned' managed hosting including Drupal specific service requests (such as deployments).
Proteon - a Seasoned Hosting Partner
As an offspring of the renowned Delft University of Technology, Proteon was founded in 1996 and has been involved in internet hosting and development for 12 years. We developed and hosted the Netherlands first job site, dating site and also the first Dutch holiday booking site.
Over the years Proteon specialized in managed hosting and website maintenance. We chose to strategically focus on open source in 2004.
Since 2006 we have been using and supporting Drupal and pride ourselves on delivering advanced, professional managed hosting. We work using separate DTAP (Development, Test, Acceptance, Production) environments, where the developer is freed from responsibility of managing a live production environment. We have developed standard and efficient procedures for releases and deployment leading to our motto: During development we offer flexibility, during production we are protective.
We offer our customers the highest availability and performance for their websites and provide offsite backup services as well as a Servicedesk, available 15x7.
All of these provide our customers with peace of mind and clearly defined budgets. Our offerings range from small VPS-based solutions up to multi-server RAID-10 style clusters.
Acquia Drupal and open source Drupal
Proteon is currently (sept 2009) an Acquia Drupal hosting partner applicant. Soon you will enjoy the benefits of Acquia supported Drupal hosted by Proteon, the seasoned service organization based in the Netherlands.
Job offers :
Sorry no job offers at the moment.