ebeyrent
Profile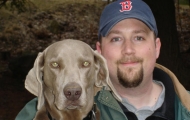 Erich has 12 years experience in web technologies, specializing in open-source solutions and application integration, and is currently the Vice President of Engineering at CommonPlaces e-Solutions, LLC. He led the team that built Greenopolis.com, an environmentally-themed social networking and education site, and also led the team that built Twolia.com, a social networking and e-commerce platform for independent female artists that mimics Facebook, Etsy.com, MySpace, and YouTube.
Erich is active in the Drupal community, and is the author of the Permissions API module. He maintains the Drupal 6 version of the Signup Restrict By Role module and has submitted patches to many contributed modules, including security patches incorporated into Drupal core. Erich presented at DrupalCon 2008 in Szeged, Hungary, and co-presented at DrupalCon 2009 in Washington, DC. Additionally, Erich has written several plugins for Wordpress.
Erich lives in New Hampshire with his wife, two sons, and two weimaraners. When not coding, he plays trombone and euphonium in a British-style brass band, and enjoys landscaping.
Up to three words that describe you:
Drupal Evangelist
Drupal nickname:
ebeyrent
History
Member for

2 years 3 weeks